Unintentional injuries are one of the leading causes of hospitalizations in Canada. These injuries could be from motor vehicle accidents, slips and falls, professional malpractice, and more.
Because these injuries could be the result of someone else's negligence, they could lead to personal injury claims.
Below we have outlined what a personal injury case is and the most common types of personal injury cases.
What Is A Personal Injury Case?
A personal injury case is a legal dispute that arises when a person is harmed in an accident caused by someone else's negligence.
If the negligent person is responsible for the accident, they will be legally responsible for damages caused by the accident. This entitles the victim to compensation through a personal injury claim.
The injuries sustained from the accident caused by the negligent driver are not limited to bodily injuries. It also includes harm to the mind and emotional well-being.
Personal injury cases do not always need a civil court proceeding to settle them. Most of the time, they can be settled between the parties and their lawyers through mediation or arbitration. However, if they fail to resolve the case informally, then it may be necessary to go to trial.
Types Of Personal Injury Cases
1. Motor Vehicle Accident Cases
Motor vehicle accidents are a common cause of personal injury cases. These cases arise when you sustain injuries from a car accident caused by another reckless driver.
This applies regardless of whether you were the other driver, pedestrian, or passenger.
If the reckless driver is responsible for the accident, then you, the plaintiff, are entitled to appropriate compensation.
To make a claim, you must present medical documentation that provides information about the personal injuries you sustained. You also need to show the amount that you spent on treatment and rehabilitation (if applicable).
Moreover, you'll need to present a police report providing the car accident information.
2. Medical Malpractice
Medical malpractice is a very complex area of personal injury law. Thus, it's important to hire a personal injury attorney with experience in medical malpractice cases. They will be able to advise you on your case and help you prove medical malpractice.
An experienced attorney will help you pursue monetary compensation for your loss, injuries, or your medical expenses due to the medical practitioner's carelessness.
Negligence regarding medical treatment includes things such as:
misdiagnosing a patient
giving incorrect medication or improper treatment
birth injuries
errors in surgery
3. Workplace Accidents
Personal injury claims stemming from workplace accidents happen when an employee is injured or dies on the work site. It could be a slip and fall or it can be an injury resulting from improper equipment or machinery.
Your lawyer will be able to assist you in filing your workplace claim or to bring a workplace lawsuit.
4. Premises Liability
Premises liability is an accident caused by dangerous conditions on someone's land or property. These accidents can happen anywhere (on public OR private property).
Someone else's carelessness to their property may be the cause of a severe injury. You can therefore take legal action against the property owners if you are injured on their property. It is their responsibility to maintain it and keep it in a reasonably safe condition.
A common type of claim here is a slip and fall case, which we'll explain next.
5. Slip And Fall Cases
Slip and fall injuries happen when you slip and fall on another person's property due to poor maintenance. These cases apply to private property and public property.
Causes can include no warnings on wet floors, broken tiles, or floorboards or uncleared snow and ice.
The property owners or the manager of the property is legally responsible for identifying, fixing, and notifying persons of a hazard. If these obligations are not fulfilled, you will have a compelling case for a personal injury claim due to a slip and fall.
You will need a personal injury lawyer to assist you with this case, as not all injuries resulting from a slip and fall lead to a personal injury lawsuit.
You must be able to show that the owner or property managers were negligent in addressing the property issues. If negligence is proven, you will be able to claim financial compensation.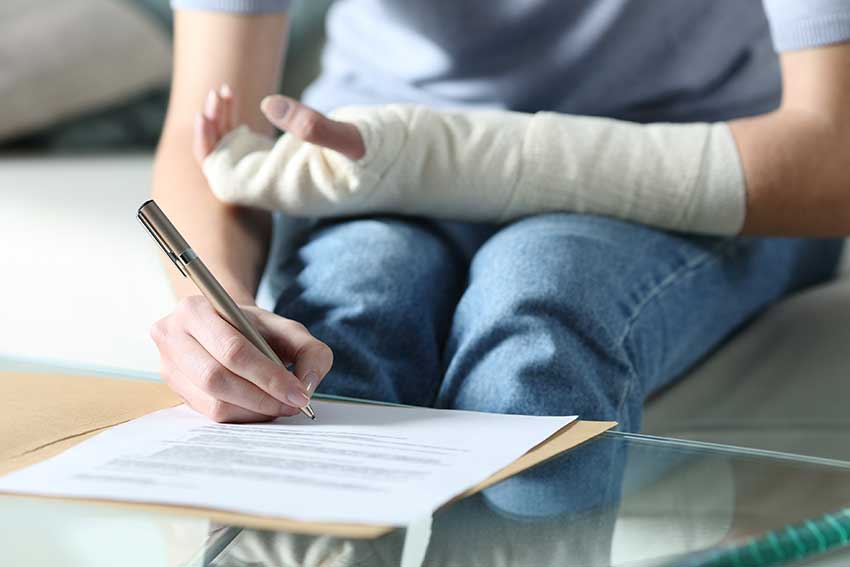 6. Products Liability Injuries
A dangerous or defective product can cause severe injuries to a person using the product. It is the manufacturer's responsibility to label their products correctly and warn them of any potential hazards.
It is also their responsibility to deliver a product that is safe for consumption. If not, you are entitled to bring a personal injury claim that a lawyer could help you with.
7. Dog Bites
In most cases of dog bites, the victim may heal quite quickly. But, in some instances, they can suffer from more severe emotional and physical trauma.
For example, if you suffered an attack from an unvaccinated dog, you could have serious injuries and may even contract rabies as a result of the attack.
Note: If the attacked person was committing a crime when they were bit by the animal, the dog owner may not ot liable for their injuries.
If you were bit by a dog, contact a personal injury attorney to help you seek compensation for the trauma you have endured.
8. Intentional Torts
Intentional torts are wrongful deeds done to someone to intentionally hurt them. Because of this, they can lead to serious injuries. If someone intentionally harms you, contact a personal injury lawyer as soon as possible so that you can gain rightful compensation.
The most common types of intentional tort claims are battery and assault. But, they can also include fraud, defamation, and intentional emotional distress. Learn more about tort claims here.
9. Wrongful Death
A wrongful death lawsuit is a lawsuit that arises when someone passes away due to someone else's wrongful conduct or negligence.
Instances of this lawsuit could arise from car accidents, surgical errors, or nursing home neglect.
Family members can seek compensation for their loved ones should their death be the result of someone else's negligence.
Compensation For Personal Injury Cases
When filing personal injury claims, it is important to note that there is a limited period to submit your claim for injuries sustained.
Most personal injury cases have a period of two years to file a claim. So, it is best to file your claim as soon as possible to ensure that you receive the maximum compensation you are entitled to.
Different types of compensation include monetary compensation for lost wages, loss of family members, and injury from the incident.
Conclusion
The different personal injury cases all have the same objective – to help you receive the appropriate claim for any harm you have suffered.
Common types of personal injury can include anything from an auto accident injury or slip and fall injury to medical malpractice or wrongful death.
Here at Fosters Law, we want to help you recover any financial loss incurred from any of these instances. Get in touch today for a free consultation with one of our experienced personal injury lawyers.