A car accident is one of those things that can happen to anyone travelling on the road at any time. No matter how careful a driver you are, accidents are unpredictable and have many causes out of your control.
So, it's important to know what to do after a car accident should you find yourself in one. Below is a complete guide on what to do in the event of a motor vehicle accident so that you can be prepared.
Step-by-step Guide On What To Do After A Motor Vehicle Accident
Stop And Secure Your Safety
Immediately after a car accident, you must stop and secure your safety. If you're involved in a car accident and don't stop the car, you risk criminal prosecution.
Alert Other Drivers On The Road With Your Hazards
Stop your car immediately and turn on your hazard lights or emergency flashers. Also, set up emergency road flares if you have them.
Do not wander off and leave your car unattended. This could be considered an offence.
Call The Police (And An Ambulance)
Do not get involved in an altercation with another driver. Call emergency services on 911 to inform the local police and get an ambulance if needed. Wait for them to arrive.
Should another driver involved in the accident flee the scene, it is not your duty to chase after them. Remain calm and stay where you are, but inform the nearest police station of what has happened.
Make A Police Report
You need to report the accident to the relevant authorities as soon as possible after an automobile accident.
The police should be present if anyone has been injured or when total damage to cars involved may exceed $2,000.
The police also need to come to the accident scene if you suspect someone in the accident is under the influence of drugs or alcohol.
Once the police officers arrive on the scene, ask each one for their name and badge number. You may need this information later.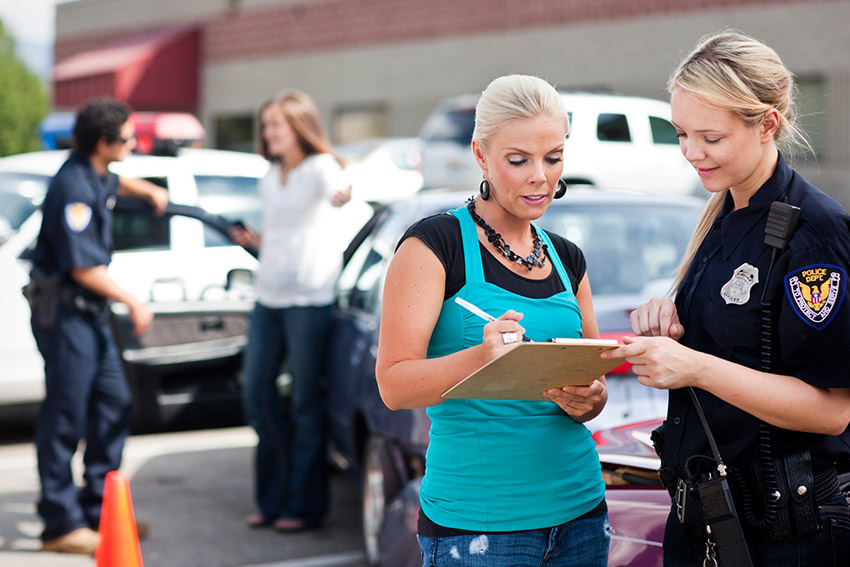 Wait For the Emergency Services
Unless you have proper training, do not attempt to provide others injured in the accident with medical intervention. Wait for the emergency medical services. Your intervention could result in unwanted legal repercussions further down the line.
In the Case Of Minor Accidents
In the case of minor accidents where no one is injured, you can attend the local collision reporting centre. This would be the collision reporting centre in the city in which the accident occurred.
An accident may be considered minor if the total damage appears to be less than $2,000, no one has been injured, and there are no signs of illegal activity or intoxication involved.
Take Several Photos Of The Scene
You will need several pictures of the scene of the accident, as well as your vehicle and the other vehicle involved, for insurance purposes.
Along with a detailed account of the accident, these pictures will help the insurance companies assess who was at fault. They may also be relevant to any lawsuits that arise.
Do Not Move Vehicles Before Taking Photos
Using the camera on your cell phone, take clear pictures of the scene and the vehicles involved from all angles.
Do not disturb the accident scene or move any vehicles before taking pictures. Should tow truck drivers come to the scene, do not allow them to remove your vehicle without having taken photos of the scene.
clauses related to Towing And Rental cars
If your car has to be towed to a collision center, alert your insurance provider. This is dependent on the Ontario car insurance policy that you have.
You may be able to organize a rental car to use while yours is being assessed and repaired. Familiarize yourself with your policy's terms and conditions.
if you purchased collision coverage, it would likely cover your rental car needs after an accident. Your policy will likely allow you to not purchase rental car insurance.
Move Your Car If Possible
If it is possible to do so, move your car to the side of the road after taking the pictures. This is to prevent blocking traffic and avoid any further accidents.
Do this only if your vehicle is not occupied by an injured person and if you are physically able to move it.
If You Are Unable To Move Your Car Out The Road
If you are unable to move your vehicle a safe distance away from traffic, leave your hazard lights on. Use warning triangles and road flares if you have them.
This will let oncoming motorists know that there has been an accident and to proceed with caution.
Stay In Your car until help arrives
If it is winter or dark, it may be very cold outside. Stay in your car at the side of the road with your doors locked to keep warm.
If you cannot do so but have an emergency kit with a thermal blanket, use that to keep yourself warm.
Record Accident Details
Once you and your vehicle are out of harm's way, be sure that you record all the auto accident details. Include vital information such as the direction you were travelling in, traffic signs you reacted to, etc.
This is important not only for the accident report but also for any insurance claim that you will make from your insurance company.
Having all the accident details is also important for filing a personal injury claim if you were injured and the accident was not your fault. This will enable you to claim compensation for any medical bills not covered by OHIP or compensation for pain and suffering and loss of wages that were the result of the accident.
Record The details as soon as possible
Your memory of the accident will be affected by time, shock, and the influence of others. Make an honest and detailed account of it while it's still fresh in your mind.
Record all the details of the incident. It is easiest to do so with the voice recorder on your cell phone. Alternatively, take down thorough notes.
Note the following details:
The location, date & time of the accident
Weather conditions at the time
Road conditions & any other relevant factors, for eg. obstacles
The estimated speed that you were driving
A detailed description of what happened and your vehicle location afterward.
If possible, draw a diagram of the accident as well. This can sometimes be a better way of describing an accident scene.
In conjunction with your recording or notes, it will give the authorities and your insurer a clearer picture of what happened.
Contact Your Insurance Company
The next crucial step is to contact your insurance company. The sooner you do so, the more detailed your information is, the better. This will help to expedite your insurance company's claims process.
This is why you should always have your insurance company's contact information available. Keep their contact number and relevant policy info stored on your cell phone.
Collision Claim
If you have collision coverage, you can make a claim with your insurance provider.
No-Fault Insurance
Remember that Ontario has a no-fault auto insurance system that allows you to claim accident benefits from your own automobile insurer whether or not you are at fault. And you'll deal exclusively with your car insurance company for any accident-related claim.
But, keep the following in mind. You could also be found partially at fault in the collision, ranging from 0 – 100%. The police report contributes to determining who was at fault.
It is up to you whether or not you choose to file a claim. But do not delay submitting a report. Should you choose to make a claim, you must submit a report within 7 days. It would be even better to do so within 24 hours.
Your insurance provider may seek to deny your insurance claim if you do not submit an accident report in this time frame.
Talking To The Other Driver
Keep communication with all drivers involved civil and relevant to the situation. Even a minor car accident can escalate into a much more serious incident if you do not heed this advice.
Above all, stay calm. Take a deep breath and proceed with these steps in an orderly fashion. In this way, you can keep any stress to a minimum.
Do Not Discuss Blame Or Fault With The Drivers Involved
Do not apportion nor accept blame for the accident or any injuries sustained at this time. At no time admit fault in the accident, even if you believe this to be true.
Your respective insurance companies will determine fault based on "Fault Determination Rules," so do not discuss this with the other driver. A remark in the heat of the moment could negatively impact you later.
Exchange Information With Other Driver/s
You will both need to collect each other's information for your respective auto insurance policies. Do so without any verbal abuse or aggression.
Also, take down the names and phone numbers of witnesses to the accident. They may help corroborate your version of the events.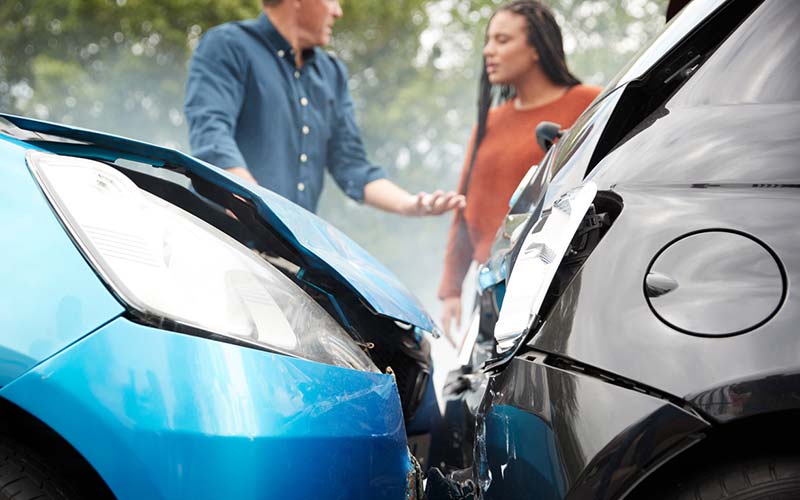 What Information To Collect
You must collect all pertinent information about all involved vehicles and drivers. If the other driver is unable or unwilling to communicate, get the information that you can by your observation.
This includes:
Names, addresses, and contact numbers of drivers involved
The names of the registered owners of the cars (if different from the driver)
License numbers of all drivers involved
The license plate numbers of the vehicles
Vehicle names, models, and colours
Vehicle identification numbers (VIN)
Auto-insurance company names and the policy numbers
Damages to their vehicles
Number of passengers in the cars involved, their positions in the car, and their names
The nature of injuries of all people involved (this includes pedestrians and cyclists)
The extent of damage to your vehicle sustained in the accident
Important Items To Keep In Your Car
There are certain items that you should keep in your car in case of flat tires or an emergency. Remember that a road accident can happen at any time. So, be prepared by keeping the following in the trunk of your car:
Emergency road flares
Warning triangles or cones
A flashlight with extra batteries
Booster cables
A tire repair kit and pump
Basic tools and work gloves
If possible, a first-aid kit and thermal blanket
Get In Touch With A Personal Injury Lawyer If You Were Injured
There are steps you can take if you have been affected by an accident.
The physical harm you may have suffered is far more important than damage to your car. So, if you or a loved one has sustained injuries in a car accident, contact a car accident lawyer without delay to help you through the claims process.
A personal injury lawyer will advocate on your behalf. They will ensure that you get a just settlement for your suffering and expenses related to your injuries.
Conclusion
We at Foster's Law know that being involved in a car accident is never a pleasant experience. But if you follow the guidelines above, you will avoid further stress.
If you have recently been involved in a motor vehicle accident resulting in serious injuries and need legal representation, contact us for confidential and professional advice.