Unfortunately, there are times when medical errors may occur as a result of a health care provider's mistake. This could include anything from a patient sustaining severe trauma, undue pain and suffering, psychological harm/mental distress, permanent disability and, in some cases, death.
In Ontario, individuals who suffer harm due to medical negligence have the legal right to bring a medical malpractice case.
This post will examine the basics of bringing a medical malpractice claim and explore the damages recoverable when a patient is seriously injured by a medical error.
What is Medical Malpractice?
Medical malpractice refers to professional negligence by a health practitioner or medical professional that results in harm or injury to a patient. It occurs when a healthcare provider deviates from the standard of care expected in their field. Medical negligence may include errors in diagnosis, treatment, aftercare, or health management often ensuing in a medical malpractice lawsuit.
Types of Medical Errors Leading to Malpractice Damages
Medical malpractice claims arise from a variety of medical errors. Here are some of the most common:
Misdiagnosis or Delayed Diagnosis
When a medical professional fails to diagnose a patient's condition correctly or is delayed in making a diagnosis, these errors may significantly worsen the patient's condition, increase the need for additional or harmful treatments, and sometimes cause the patient's death.
Surgical Errors
Surgical errors range from operating on the wrong body part to leaving surgical instruments inside a patient's body. Surgical errors can cause serious harm to a patient, including infection, internal bleeding, organ damage, severe pain and suffering, and possibly death.
Medication Errors
Medication errors involve prescribing or administering the wrong medication, the wrong dosage or failing to administer the medication on the prescribed schedule. These errors can lead to severe complications, including allergic reactions, overdose or death.
Birth Injuries
Birth injuries can occur due to medical errors during pregnancy, labour or delivery. They can result in catastrophic injuries to the baby, such as cerebral palsy, Erb's palsy or brain damage. Birth injuries may also cause harm to the mother, including severe bleeding or infection.
Anesthesia Errors
Anesthesia errors may occur when an anesthesiologist fails to carefully review a patient's health history for potential complications, administers improper doses of medications or fails to monitor a patient's vital signs during surgery.
Failure to Treat
When a medical expert accurately diagnoses a patient but fails to provide necessary treatment, it can worsen their condition, resulting in the need for additional treatments and even wrongful death.
Lack of Informed Consent
Healthcare providers are required to fully inform patients about the potential benefits and risks of a proposed treatment or procedure. If a patient is not properly informed and consents to the medical procedure, any harm resulting from the treatment or procedure could lead to a medical malpractice claim.
Key elements required to prove a medical malpractice claim
Duty of Care
Every medical professional owes their patient a duty to provide treatment that meets a certain standard of care.
Standard of Care
A healthcare provider must administer a level of medical care to their patient that meets an acceptable standard.
The assessment of whether this standard has been met in a medical malpractice case involves the court comparing the medical care provided to the patient with the care the patient would have received had another reasonably trained medical professional treated them under the same circumstances.
When considering whether the standard of care has been met, the court will rely heavily on the evidence of medical experts.
Causation
Proving causation in a medical malpractice case can be complex; the injured patient must prove that the substandard care caused them to be harmed.
Damages
The injured patient must be able to prove that they sustained economic damages and are entitled to financial compensation.
Types of Damages in Medical Malpractice Cases
In Ontario, a patient who has suffered harm or a catastrophic injury due to medical malpractice can recover certain categories of damages. The recoverable damages are divided into two categories, pecuniary damages and non-pecuniary damages:
Pecuniary Damages in Medical Malpractice
Pecuniary damages (also known as economic damages) are damages that have a clear dollar value and are easily calculated.
Past and future medical expenses: This can include the cost of medical bills, medications, future medical treatment and other necessary medical care such as physical therapy.
Past and future income loss: If the plaintiff has been unable to work or can no longer work in the same capacity as before the malpractice occurred, they can seek damages for past income loss, future lost earnings, and loss of earning capacity into the future.
Past and future cost of care: If the plaintiff requires assistance with daily living activities due to injuries suffered, they may be entitled to recover compensation for all past and future care costs.
Dependency loss of income: If a person passes away due to medical malpractice, their spouse, children and any dependents of the deceased may have a claim for a future loss of dependency income. The surviving family members will be awarded damages for their economic loss based on the amount of the deceased's future income that would have been contributed to the surviving family members.
Loss of future services: Surviving family members are entitled to recover damages to replace the cost of the services the deceased would have provided to the family in the future. For example, if the deceased provided lawn care and snow removal, the surviving family may be awarded damages to cover the cost of those services in the future.
Non-Pecuniary Damages in a Medical Malpractice Settlement
These damages compensate the successful plaintiff for harm or losses caused by the defendant's conduct that do not have a specific or calculable monetary value (also known as non-economic damages or general damages). These damages are intended to compensate the plaintiff for physical, emotional and psychological harm resulting from the defendant's actions or negligence, and may include the following:
General Damages for Pain and SufferingThis category of damages compensates for the physical pain and suffering, discomfort, and distress experienced by the plaintiff due to their injury. It includes both the present and future pain the individual may endure. It provides compensation for the psychological and emotional impact the injury has and will have on the plaintiff in the future. It also includes compensation for the loss of enjoyment of life the injured patient has experienced and will experience in the future.
Loss of Care, Guidance and CompanionshipThe plaintiff's spouse, children or parents may seek compensation for the impact of the injury or death on their relationship with the plaintiff. In Ontario, the Family Law Act (FLA) allows close family members of a medically injured victim to claim compensation from negligent parties for their loved one's injuries or death.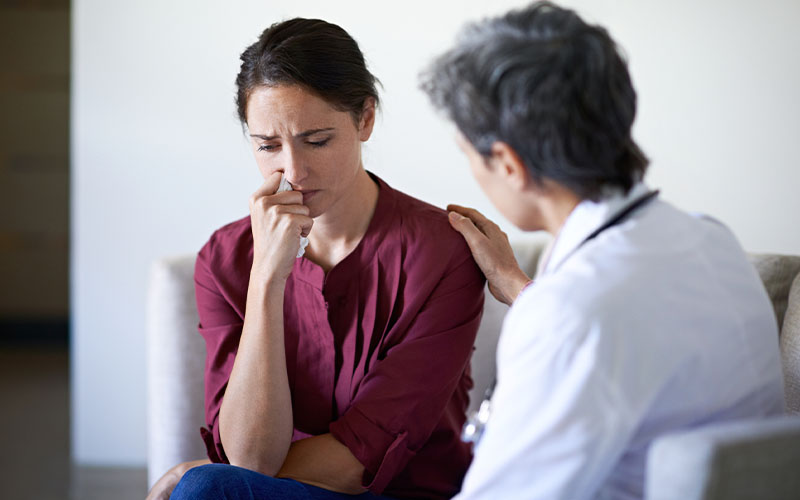 Medical malpractice damages – what is the average settlement amount?
Each medical malpractice action is as unique as the individual and an "exact amount" or average settlement is impossible to predict. There are, however, some basic considerations that impact upon the the assessment of medical malpractice damages.
Pecuniary Damages
As pecuniary damages are intended to compensate for financial losses, the assessment of these damages will vary depending on factors such as the victim's age, prior earnings and the significance of their care needs caused by the medical malpractice. For example, a 25 year old who earns $100,000 annually and can no longer work, will have a 40 year income loss until their expected age of retirement at 65. Whereas, if the person was 60, they would only have five years of lost income.
Your lawyer will help gather the necessary information, such as tax returns, business records and treatment/medical costs, to calculate your economic damages up to the time of resolution. Your lawyer will also retain experts to calculate your potential future economic losses.
Non-Economic Damages/ General Damages
As these damages are not based upon financial losses, the assessment focuses on the emotional and physical harm that the injury has caused the victim and their family to suffer. These types of damages do not have a specific dollar value.
Ontario's Court of Appeal has set a cap on the damages that a victim can recover. As of 2023, the cap is $447,863 and rarely awarded. Only the most severe cases such as quadriplegia or severe brain injury, will attract general damages close to the cap. Most general damage awards are significantly lower.
Conversely, there is no cap on the damages the family of a malpractice victim can receive for loss of care guidance and companionship (also known as Family Law Act damages). It is rare though for the court to award damages of this nature in Ontario, with most being lower than $100,000.
Punitive or Aggravated Damages
It is very uncommon for a plaintiff to receive punitive or aggravated damages when awarded medical malpractice damages in Ontario. While your counsel will consider the possibility of any punitive damages or aggravated damages in your case, they are not often awarded in Canada.

How long do you have to bring a medical malpractice Lawsuit?
In Ontario, as a general rule, you have two years from when the medical malpractice occurred to bring a claim. While there are some exceptions to this two-year limitation period, initiating legal proceedings within this timeframe is crucial to preserve your rights.
Seeking Legal Representation
Navigating the legal complexities of a medical malpractice claim can be daunting. Seeking the guidance of an experienced medical malpractice lawyer as soon as possible is highly recommended to ensure your rights are protected and you receive fair compensation.
If you believe you or a family member have been harmed by a health care provider's mistake and you want to know whether you have a potential medical malpractice case or a wrongful death claim, it is essential to consult with an experienced lawyer to assess your case. Medical malpractice claims are notoriously difficult and require a Personal Injury lawyer who understands medical history, the law, and medical science.
At Foster's Law, we have the experience and the knowledge to help you determine if you have been the victim of medical malpractice. Our lawyers will handle the complexities of your case and work tirelessly to ensure that you and your loved ones receive the compensation and support you deserve.