Have you or a loved one been involved in a motor vehicle accident? Was there an injury and possibly ongoing medical care or impairment as a result of the accident? You need to know about statutory accident benefits.
Statutory accident benefits are available to anyone injured in an automobile accident in Ontario. You are entitled to these benefits even if you are at fault for the accident.
But what do you do if you don't have insurance or if you were a pedestrian struck by a vehicle? And what are the different benefits that you can receive?
We answer all of these questions and more in this comprehensive guide to the statutory accident benefits in Ontario.
The Accident Benefits Schedule
The accident benefits schedule lists different types of accident benefits that you may be eligible for after a car accident in Ontario. These benefits will differ in amounts, usually related to the severity of the injury.
As some changes have been made to these amounts in recent years, it is wise to familiarize yourself with the current benefits. You also need to be aware of the basic terminology used in respect of statutory accident benefits.
In Ontario, there are three levels of no-fault statutory accident benefits. These three categories are:
minor injury
non-catastrophic injury
catastrophic injury
The amount, duration and types of Accident Benefits available after a car accident will depend on the category of injury the insurance company decides you are in from the accident.
Minor Injury
An injury is considered minor if it falls within the minor injury guideline (MIG).
According to the minor injury guideline, the following injuries are minor:
minor injury means a sprain, strain, whiplash-associated disorder, contusion, abrasion, laceration or subluxation and any clinically associated sequelae. This term is to be interpreted to apply where a person sustains any one or more of these injuries.
a sprain means an injury to one or more tendons or ligaments or to one or more of each, including a partial but not a complete tear.
strain means an injury to one or more muscles, including a partial but not a complete tear.
a subluxation means a partial but not a complete dislocation of a joint.
whiplash injury is an injury that occurs to a person's neck following a sudden acceleration-deceleration force.
whiplash associated disorder means a whiplash injury that:(i) does not exhibit objective, demonstrable, definable and clinically relevant neurological signs, and(ii) does not exhibit a fracture in or dislocation of the spine.
If your injury falls within the MIG, you will have limited accident benefits available to you. That being said, the minor medical injury could still necessitate a short course of follow-up care. As such, you may be eligible for both medical and rehabilitation benefits.
Catastrophic Injury/Impairment
A catastrophic injury, on the other hand, will include injuries that lead to severe impairments and disabilities, including:
Paralysis (Paraplegia, quadriplegia)
Amputation results in the loss of the entire function of one arm or leg
Blindness in both eyes
Severe brain trauma
A combination of injuries that results in 55% impairment of the victim's entire person
Any severe impairment, or three marked impairments, caused by a mental or behavioural disorder
As people who suffer catastrophic injuries will likely require life-long medical, rehabilitation and attendant care, they are entitled to significant medical and rehabilitation benefits, attendant care benefits, housekeeping benefits and income replacement benefits.
Non-Catastrophic Injury
Non-catastrophic injury relates to any injury or impairment that doesn't fit either of the above two categories but rather exists between them.
A non-catastrophic impairment may seriously alter your life, but you may still be able to perform your work duties after a period of rehabilitation.
Broken bones that limit you from day-to-day activities and work, but are survivable and recover in a short time, are examples of non-catastrophic injuries.
Once again, the severity of your injury will determine the level of medical intervention and recovery you need. This will, in turn, determine your eligibility for medical and rehabilitation benefits.
Can you challenge the classification of your Injury?
Yes, you can challenge the insurance company's decision as to what category of injury they have put you in.
Unfortunately, most car accident victims will be deemed to fall within the minor injury category by their insurance carrier when they apply for Accident Benefits. These benefits are very limited and are usually insufficient.
If you disagree with how your injury has been classified, contact a personal injury lawyer who specializes in Accident Benefits Claims.
At Fosters Law, we have helped many of our clients to have their injuries reclassified so they can collect the benefits they need and deserve.
How Do Ontario Statutory Accident Benefits Work?
In Ontario, Statutory Accident Benefits are governed by the Insurance Act and the Statutory Accident Benefits Schedule.
The statutory accident benefits schedule sets out the regulations relating to the making of a claim for accident benefits after an automobile accident in Ontario.
These mandatory benefits are included as standard in all Ontario auto insurance policies.
If injured in a motor vehicle accident, you will be entitled to statutory accident benefits, regardless of fault. This is why they are often called no-fault benefits.
Types of Statutory Accident Benefits that are Available
Income replacement benefits: If you are unable to work, you may be entitled to benefits of 70% of your gross income, capped at $400 per week.
Caregiver benefits: If you cannot provide care to a dependent, you could receive compensation from hiring someone to help you care for them. This applies to specific injuries. You can add optional endorsements to include all injuries.
Non-earner benefits: If you don't qualify for income replacement, you can qualify to receive a non-earner benefit of $185 per week.
Medical and rehabilitation benefits: This covers the cost of accident-related medical treatments and health care and rehabilitation services such as physiotherapy, prescriptions, chiropractic, counselling, and other services not covered by OHIP or through a private health plan. Attendant care benefits: If you are unable to care for yourself after an automobile accident, you will be provided with assistance from a Personal Support Worker or another care provider to help you live independently in your home or in a long-term care facility.
Housekeeping and home maintenance: If unable to care for your home after an accident, you may qualify for to $100 per week to hire someone to help with housekeeping and maintaining your home.
Death And Funeral Benefits: If you pass away in an automobile accident, your spouse will be entitled to $25,000 and each of your dependants $10,000 and up to $6,000 to cover funeral expenses.
Increased and Optional Benefits: We stronly recomend that you speak with an insurance broker (before you or a loved one is injured in a car accident) to discuss increasing your accident benefits coverage above the standard benefits. The extra coverage can be significant if severely injured, and the annual cost is typically quite small.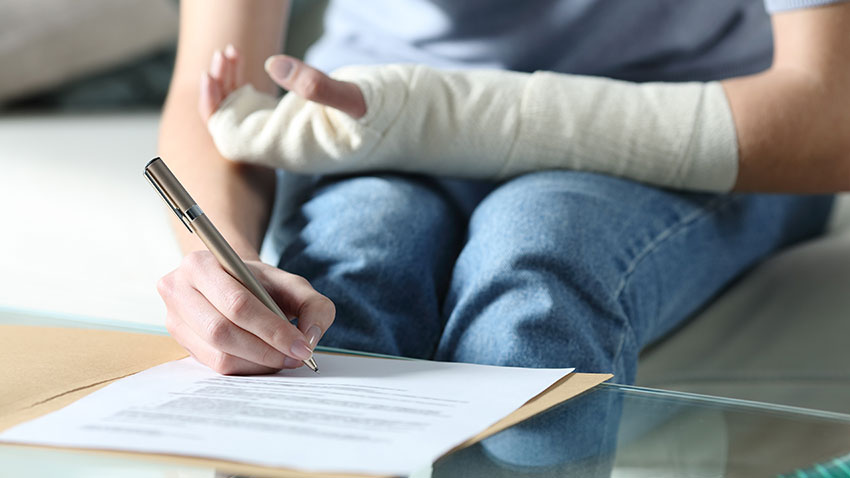 How To Apply For Statutory Accident Benefits In Ontario
You need to take these steps when applying for statutory accident benefits in Ontario.
Adhere To The Timeline
You need to adhere to a timeline when reporting an automobile accident in Ontario. A car accident where someone is injured, or there is damage over $2 000 must be reported to the relevant authorities within 24 hours.
You must also contact your insurer (if you have insurance) and inform them of any injuries within seven days of the accident.
Fill In The Relevant Paperwork
After you have reported your car accident to your insurance company, they will provide you with a Statutory Accident Benefits Application (OCF-1).
You and your doctor will need to fill out forms describing the injuries you sustained in the accident, how they impair your function and their expected duration. You will need your employer to complete a form to confirm your earnings before the accident. If you are self-employed, you must provide tax returns and business records to prove your earnings.
It is a good idea to make a copy of the completed forms for yourself and return the original to the insurer within 30 days.
If additional information or documentation is required, your insurer will contact you shortly afterward. You may seek legal advice from a personal injury lawyer during this time.
We recommend that if you have been seriously injured in a car accident, hire an experienced personal injury lawyer so they can take care of the Accident Benefits Application forms and ensure you receive the maximum Statutory Accident Benefits you qualify for.
Who Can Claim Statutory Accident Benefits In Ontario?
Anyone who is injured in a car accident can apply for Statutory Accident Benefits regardless of fault.
For example, if you are a pedestrian and a car collides with you, you can make a claim for accident benefits. If you have your own automobile insurance, you claim against it; if you do not have an auto policy, you make a claim against the Statutory Accident Benefits of the vehicle that struck you.
If you are a passenger in a vehicle and are injured, you can make a claim for accident benefits from your own auto insurer. If you don't have your own auto policy, you can claim against the auto insurance covering the vehicle you are a passenger in.
If you are unsure if you are entitled to make an accident benefits claim or who to make the claim against, be sure to consult an experienced personal injury lawyer. They are experts at finding an auto policy to respond to your accident benefits claim.
Why You Need Expert Legal Advice After A Car Accident
When you or a loved one has been seriously injured in a car accident, the last thing you must worry about is completing all the forms needed to qualify for Accident Benefits.
Let us take the stress of filling out forms away from you. Let us help your doctor and your employer to fill out the forms. We ensure the forms are filled out correctly and ensure the insurance company is given the information they are entitled to and nothing more.
At Fosters Law, we understand how difficult it can be after an accident. We've helped countless people just like you get the law on their side and receive the Accident Benefits they need and deserve.
Final Thoughts
Statutory accident benefits are open to all people involved in car accidents in Ontario. You can claim these benefits even if you were hit by a car, drove into another car, or don't have car insurance.
Understanding your rights and obligations after a car accident is essential when you want to submit a claim for benefits. And the assistance and counsel of a trusted legal advisor are vital to this process.
Get in touch with our team today if you have been in a motor vehicle accident. We're ready to help you with your claim and get you the compensation you deserve.